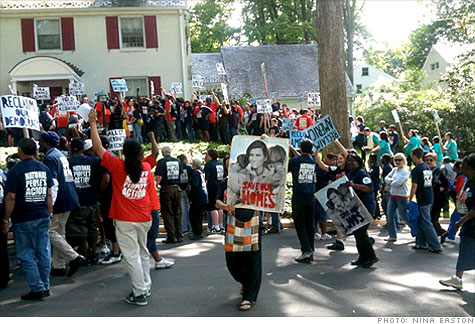 Last Sunday the Service Employees International Union doubled down on its
largely ignored
thuggery
when it dispatched
fourteen buses of protesters
to the private home of a Bank of America executive in Washington D.C. Fox News Contributor and Washington Bureau Chief for Fortune Magazine, Nina Easton,
witnessed the whole spectacle
from her home across the street:
Every journalist loves a peaceful protest-whether it makes news, shakes up a political season, or holds out the possibility of altering history. Then there are the ones that show up on your curb--literally.

Last Sunday, on a peaceful, sun-crisp afternoon, our toddler finally napping upstairs, my front yard exploded with 500 screaming, placard-waving strangers on a mission to intimidate my neighbor, Greg Baer. Baer is deputy general counsel for corporate law at Bank of America (BAC, Fortune 500), a senior executive based in Washington, D.C. And that -- in the minds of the organizers at the politically influential Service Employees International Union and a Chicago outfit called National Political Action -- makes his family fair game.

Waving signs denouncing bank "greed," hordes of invaders poured out of 14 school buses, up Baer's steps, and onto his front porch. As bullhorns rattled with stories of debtor calls and foreclosed homes, Baer's teenage son Jack -- alone in the house -- locked himself in the bathroom. "When are they going to leave?" Jack pleaded when I called to check on him.
The police were called, but refused to arrest anyone for fear of further inciting the mob. Terrific.
Read the
whole thing
.
Liberty Chick provides entertaining coverage of SEIU's
indignant and sophomoric response
to Ms. Easton's reporting at
Big Government
.