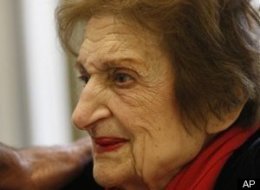 To the credit of the Montgomery County (MD) Public Schools board, Helen Thomas
has been disinvited to speak at Walt Whitman High School graduation ceremony
:
Journalist Helen Thomas was scheduled to be the graduation speaker at Walt Whitman High School later this month -- until Sunday, when she was disinvited after comments that she made about Israel and Palestine made many in the community uncomfortable, Montgomery Board of Education President Patricia O'Neill said Sunday.

"We became aware that there are some unfortunate comments from her that are airing on YouTube," O'Neill said. O'Neill said that especially given the large Jewish population at Whitman, the school was not comfortable with having Thomas speak at the graduation on June 14.

A video of Thomas that says it was filmed at the White House on May 27 shows her telling Israelis "to get the hell out of Palestine... it's not German and it's not Poland." When asked where Israelis should go, she said, "Go home!... Poland, Germany... and America, and everywhere else."
I affiliate myself with
Ari Fleischer's call for Helen Thomas to be fired
:
Thomas on Friday apologized in a written statement, saying she deeply regretted the comments -- which were offered, ironically, during the White House's Jewish Heritage Celebration.

But even as she was trying to walk back the remarks, calls for her firing mounted. Among the more vocal was former Bush Press Secretary Ari Fleischer, who claimed to have a close relationship with Thomas when he was manning the daily briefings.

"She should lose her job over this," Fleischer said in an email. "As someone who is Jewish, and as someone who worked with her and used to like her, I find this appalling."

"She is advocating religious cleansing. How can Hearst stand by her? If a journalist, or a columnist, said the same thing about blacks or Hispanics, they would already have lost their jobs."