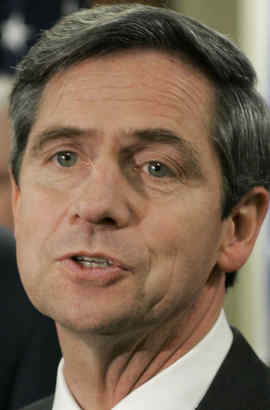 In Barack Obama's first campaign for the Illinois state senate back in 1996, he played hardball and used the election rules to invalidate the voting petitions of his three Democratic challengers.
CNN reported
during the presidential campaign in 2008:
The move denied each of them, including incumbent Alice Palmer, a longtime Chicago activist, a place on the ballot. It cleared the way for Obama to run unopposed on the Democratic ticket in a heavily Democrat district.

"That was Chicago politics," said John Kass, a veteran Chicago Tribune columnist. "Knock out your opposition, challenge their petitions, destroy your enemy, right? It is how Barack Obama destroyed his enemies back in 1996 that conflicts with his message today. He may have gotten his start registering thousands of voters. But in that first race, he made sure voters had just one choice."
Well it appears that clearing the Democratic playing field of challengers to benefit his chosen candidate is still the
modus operandi du jour
at the White House. From the
Philadelphia Inquirer
:
Rep. Joe Sestak (D., Pa.) said yesterday that the White House offered him a federal job in an effort to dissuade him from challenging Sen. Arlen Specter in the state's Democratic primary.

The disclosure came during an afternoon taping of Larry Kane: Voice of Reason, a Sunday news-analysis show on the Comcast Network. Sestak would not elaborate on the circumstances and seemed chagrined after blurting out "yes" to veteran news anchor Kane's direct question.

"Was it secretary of the Navy?" Kane asked.

"No comment," Sestak said.

"Was it [the job] high-ranking?" Kane asked. Sestak said yes, but added that he would "never leave" the Senate race for a deal.

A White House spokesman this morning strongly denied an offer had been made to Sestak. Before the spokesman issued the denial, a senior Pennsylvania Democrat said Sestak's account was met with anger by White House officials yesterday.

After yesterday's taping, Sestak said he recalled the White House offer coming in July, as he was preparing to formally announce his Senate candidacy in August. He declined to identify who spoke to him or the job under discussion. Sestak also would not say whether the person who approached him worked for the administration or was an intermediary for the offer.

"I'm not going to say who or how and what was offered," Sestak said in an interview. "I don't feel it's appropriate to go beyond what I said," because the conversation was confidential.
The White House issued an
immediate and adamant denial
of Sestak's account, but the Congressman
stood by his story
:
In the face of a White House denial, U.S. Rep. Joe Sestak stuck to his story yesterday that the Obama administration offered him a "high-ranking" government post if he would not run against U.S. Sen. Arlen Specter in Pennsylvania's Democratic primary.

A White House official "vociferously" denied his account yesterday as Sestak insisted on national television that he had told the truth, but declined for a second day to divulge details.

"I was asked a direct question . . . and I answered it honestly," Sestak said in a Fox News interview. "There's nothing more to go into."
Jon Ward at the Daily Caller
believes this recent disclosure is further evidence of the waning effectiveness of the Obama political machine:
The big takeaway for most from Sestak's admission Thursday – he said the White House offered him a high-profile government appointment to move him out of the Pennsylvania Democratic primary – was that it amplified ongoing questions about the potency of the Obama political operation.

"They've been very active but the reality is that they've been ineffective," said a Republican political operative, who pointed out that the White House was also unable to persuade Lisa Madigan and Roy Cooper, the attorneys general in Illinois and North Carolina, to enter their respective Senate races.

Doubts about the White House political operation often center on two men: White House chief of staff Rahm Emanuel, and Patrick Gaspard, director of political affairs. There are whispers about both being on the outs, though Emanuel is all but certain to stay on until after the State of the Union address next January. Gaspard's future is less clear.

Perhaps nowhere has the White House had more trouble than in New York, where Gaspard has been unable to utilize his connections in the state to get former Tennessee congressman Harold Ford Jr. to stand down from a possible challenge to Sen. Kirsten Gillibrand, and where earlier in the year Gaspard by most accounts mishandled an attempt to persuade Gov. David Paterson to drop the idea of running for reelection.
It was bad enough for Obama that Sestak rejected the
quid pro quo
. But to blab it to the Larry Kane Show and stand by the story after an administration denial illustrate that the President has truly lost control of his party.